cafe l'enfant
2000 18th street NW, washington, dc 20007
tel: 202) 319-1800
hours of operation: mon-fri 6-close; sat 10am-close; sun 10am-close

what was consumed: belgian beer happy hour (half off belgian beer) – tues 4:30-7:30pm; crepes

the first time i came to cafe l'enfant was for their belgian beer happy hour on tuesday evenings. christine had been talking about it for a while and seeing that i'm a fan of belgian beer as well, the decision to go was quite easy. so, christine and i took the metro, got off at dupont circle, and began our trek out to adams morgan. now, she had been there before, but seeing as her sense of direction is as it is, we must have made a couple of wrong turns before cafe l'enfant appeared before our very eyes.
we made sure to get there just as the happy hour began (which, coincidentally, is also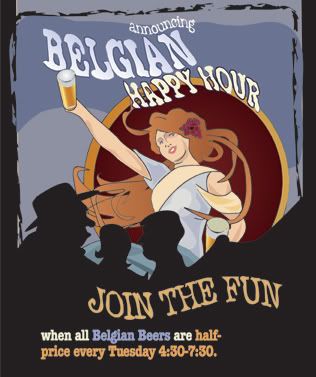 when the place opens). we walked in, and there was nobody there, outside of the restaurant staff. 'ok,' i thought, as we took our seats and our server came to take our order (she's french with a totally awesome accent). willie joined us after a little bit (christine and i had polished off our first beers of the night - delicious!) and soon after his arrival, the place became packed with adams morgan residents, regulars, and everyone else and their mothers. good thing we came early.
with the happy hour being as it is (half off belgian beer), i decided that i wanted to try as many as i could (they were out of some of their selections, but only 1 or 2). i also made sure i tried "delirium," which i liked (high alcohol content aside). after a bit of time, we also did order a crepe, which the three of us shared. it had lots of veggies in it, which is much preferred (for me) over the fruity kind. of course, this was only the beginning of our night (and it was truly a fun one at that!). nonetheless, i look forward to the next time i will go to cafe l'enfant.
online:
http://www.lenfantcafe.com/